There is a lot of great online streaming and video hosting websites. Netu TV is one of the most popular video hosting a website on the internet. With video hosting and online streaming services, Netu TV is being used by millions of users. Although a bit unknown to the normal public Netu TV has quite a wide userbase. Netu TV is a free video hosting site, which allows you to upload and stream videos and audio files on the internet. As it's a free website, it becomes easier to upload your precious video files and share them with your friends for online streaming. 
As Netu TV is not that popular amongst normal people, it's quite obvious to have some doubts about it. People often ask us if Netu TV is a scam or a legit site. If you are interested in using the Netu TV services and want to know more about the same, then you are at the right place. As we've used this service in the past, we can answer all of your questions about Netu TV. In this post, we are sharing all the detailed information and clearing the most common doubt: whether it is safe to use Netu TV.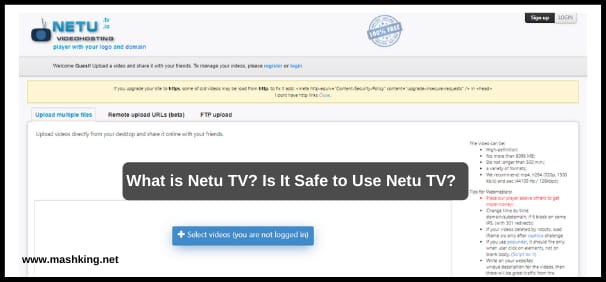 What is Netu TV? 
Netu TV is an online video hosting and streaming service that offers customers free and paid subscription plans. On Netu TV, the users can easily upload any kind of content on the platform, and the others can watch it later. With the users uploading the latest movies, TV series, documentaries and many other videos, the platform is becoming popular. Just like YouTube, Netu TV offers a lot of great features for uploaders and viewers. 
Is Netu TV a Scam?
Those who don't know anything about third-party video uploading sites might think of Netu TV as a scam. But in reality, it's not a scam at all. Netu TV is a legit website, which works perfectly fine for uploading and streaming video content. Before every video, Netu TV shows an advertisement, which helps them to earn revenue. The ads might be misleading as they are served by the third-party publisher, the service itself is not a scam. Another thing to note here is that anyone can upload videos on Netu TV, so the videos can be scammy or illegal, so it's up to the users to comply with the regulations or not. 
Why Does Netu TV have High Pricing? 
Netu TV is free for all users, but there are additional users with the premium subscription for the premium users. The features like unlimited high-quality uploads, no advertisement and perpetual video hosting are the few features that anyone can enjoy. Due to the resources required to serve the users, charging a significant amount of money becomes essential. For the premium customers, the reason behind the high pricing is the number of resources required. If any other video hosting provider is not able to fulfil your requirements, then the pricing of the Netu TV subscription plans is not that bad. 
Downloading Movies from Netu TV 
As there are millions of active users of this service, they upload great content on the platform. With the Movies and TV series, the users have a lot of choices to watch. You can find a lot of great and latest movies on Netu TV, which you can watch directly or download on your computer to watch offline. If you are willing to download movies from Netu TV, then the process is pretty simple. 
Downloading movies from Netu TV is pretty simple, and you only have to follow a few steps. With third-party downloader programs like Internet Download Manager, you can download the videos with one click. Not just that, you can use the third-party video download sites and paste the Netu TV video URL in that place. This will help you to immediately download the videos in the desired format with ease. 
Final Words 
Many newbie people misunderstand netu TV, but millions of active users know the legitimacy of this fantastic video hosting service. With Netu TV, you can watch a plethora of content and share the same with other people privately and publicly. Netu TV is not a Scam and a legitimate service, which will help the users upload any kind of video on the platform and watch it later or share it with others.