How to Create Flipkart.Com Affiliate Account: Updated 2018
Online stores have gained immense popularity across the globe as it is hassle-free and saves time. Flipkart is one of the leading electronic gadgets and books selling web portals of India. Since its inception in the year, 2007 has gained acknowledgement across India. It was started by Binny Bansal and Sanjay Bansal. They offer an affiliate program for the common mass that is you can earn through affiliate link by selling their product. All you need is to have a blog or website of your own where you can share the list of products followed by your affiliate link.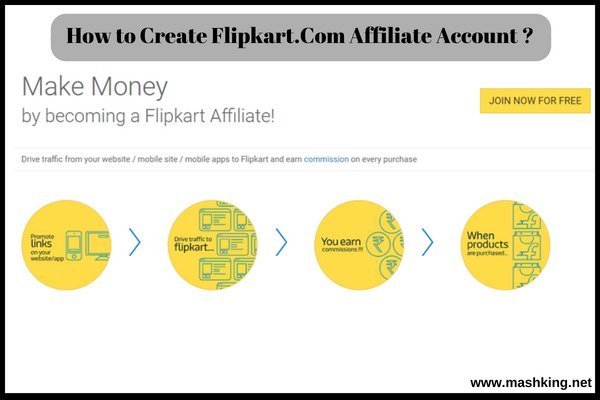 Benefits Of Signing Up For Flipkart.Com Affiliate Program
It is best to buy any products or books from Flipkart.com, but if you have a website or blog of your own, then you can recommend those products or books to the blog readers or your friend. You can encourage your readers and friends to buy such books or products. In the process, you will receive a referral commission for the products that you sold from your affiliate links or website.
All About Commission
You can earn most of the revenue from selling books. Thus, it is best if you have an educational website.
The process for signing up for Flipkart.com Affiliate account is simple. Even a novice person can sign up and take advantage of this incredible program. You do not have to give any confirmation about your website or blog to Flipkart.com. If you do not have any blog or website, then also you can recommend through emails.
How to Create Flipkart.Com Affiliate Account :
Steps To Follow 
Go to the website https://affiliate.flipkart.com/and click on the "join now" option.
Fill up a form specifying your contact details followed by email ID and password.
After confirming your email Id, you can log in to the Flipkart affiliate account.
Start searching for different Flipkart products and copy the link with the referral ID attached with it.
Put up everything on your website or blog for promoting and encourage the users to buy. You can trace the earning in the right after login in.
Payment Options
Payments are given either monthly or weekly depending on the payment threshold reach. There are chiefly two ways to get paid by the affiliate program of Flipkart.com.
You can ask them to pay you through cheque to your local address, but the minimum amount should be 2500/-.
Another way is you can buy a product from Flipkart.com for the amount earned. You can redeem the amount earned in the form of gift vouchers. The minimum threshold for gift voucher in 250/-
Thus, it is indeed a great way of earning and if you are a student, then surely it will make you utterly happy. So, wait no more and grab this opportunity for earning extra amount.   At the end of the month when you fall short of pocket-money, this earning will save you. It is a wonderful initiative by the Flipkart.com that also made it popular among the consumers.