Apple laptops and computers are not meant for gaming, but with such a powerful configuration, it's possible to play the games on the same. There are a lot of Steam games supported on macOS for gamers, but not everyone is interested in playing the same. Games like Overwatch have a lot of active players and a huge community. Those with macOS-based computers cannot natively play this game as the developers have not provided the support for the same. 
Can You Play Overwatch on Mac? Complete Guide 2021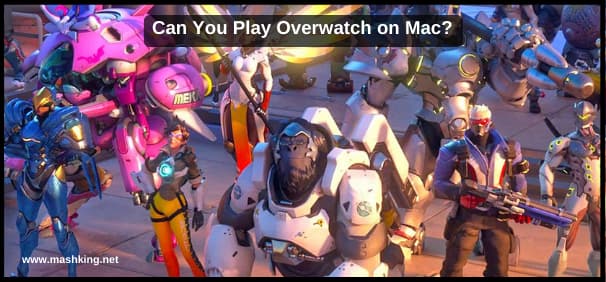 Fortunately, Blizzard is working on Overwatch for Mac, but it'll not be available anytime soon. For playing Overwatch on Mac, you have to use various methods and tricks and play the game on your computer. The only issue, in this case, is that you might have to sacrifice some performance in terms of FPS while playing Overwatch on Mac. If you are quite okay with the same, you can proceed with all the methods mentioned in this post. 
How to Play Overwatch on Mac? 
#1 – Use Bootcamp on Mac
Bootcamp is the best app to run Windows on your Mac laptop or computer. With Bootcamp, you can load Windows 10 ISO and boot into your Windows OS with ease. The Bootcamp will help you to virtually run Windows 10 on your Mac computer. After installing Windows 10 virtually, you have to install the Blizzard launcher on Windows instance and install Overwatch. 
Bootcamp is the go-to option for those who want to use Windows on their Mac or access the Windows features. With Bootcamp, it becomes easier to run the games with native support. As you are going to install the game on the virtual machine, the performance will degrade, and sometimes you might not be able to enjoy the full FPS gameplay as you used to do on the other laptops and computers. Setting up Bootcamp is quite tedious for first-time users, so it's essential to follow the tutorials online and get the job done. 
#2 – Parallels Desktop 12 
If you are not comfortable with the complicated procedure of Bootcamp and want a convenient solution, then Parallels Desktop 12 is one of the best options. With Parallels Desktop 12, it becomes easier to run the Windows 10 virtual machine without restarting your system. Not just that, the installation is so effortless that you will not have to follow any guide. Parallels Desktop 12 is a paid software program, so you have to get a subscription. You need to have a valid Windows 10 License to install Windows and then install Overwatch on Mac. 
Without a valid license of Windows, it becomes impossible to use Parallels Desktop 12 on your Mac. The best thing about Parallels is that they can be used with ease. The users don't have to restart their computers to run Windows instances and play Overwatch. Those who love the simplicity and don't mind paying some money should opt for the Parallels 12 Desktop Virtual Machine on Mac. 
Final Words 
There are many tricky ways to install and play Overwatch on Mac and enjoy the classic hero-style gameplay. As Blizzard, the developer of Overwatch has not yet released any official support for this game on macOS, it becomes essential to follow these alternative methods to play Overwatch on Macbook or any other device. If you prefer performance, you should switch to Bootcamp on Mac, otherwise Parallels Desktop 12 is the best option for your needs.