With the surge of business activity in the post-pandemic era, a large number of people are relocating. Some who lost their jobs during the coronavirus lockdowns and moved back to their hometowns are now on the hunt for housing in the cities they were able to find new occupations in. On the other hand, businesses are also finding new locations for their offices as they call their employees back to the workplace from work-from-home. This scenario, where a lot of people are moving from one place to the other, has forced many to make a decision on which internet service provider (ISP) to choose.
It has become difficult to choose between ISPs as there are now so many of them in the market. While some may simply prefer the provider that offers services at cheaper rates, others may look for the ones that enable higher speeds. Sometimes, people have a preference for a specific type of internet as well. If you are one of the people being made to choose one ISP over all others, this blog is ideal for you! We say this because we will be comparing the different ISPs in the sections below so you can choose which one suits your needs the best:
A Comparison Of Internet Service Providers In 2022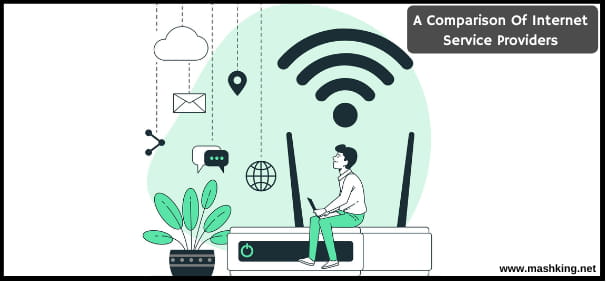 Xfinity
Xfinity is consistently ranked amongst the most renowned businesses in the world of internet provision. It offers speeds of up to thousands of MBs per second. It not only offers the fastest speeds but is also considered one of the most dependable providers in the United States. During the years it has served its users, it has significantly worked upon xFi Gateway – its WiFi system. Thus, subscribers to Xfinity plans can get access to the internet seamlessly from all places in their buildings on different computers. Finally, the company provides users with advanced security features to ensure data privacy. 
AT & T
Apart from Xfinity, AT&T is another ISP that provides you with very fast speeds of up to thousands of MBs per second. Even though it began functioning as a telecommunications services provider, it expanded its revenue streams to include cable and internet over the years. AT&T offers a wide variety of internet services, including cable internet and fibre-optic internet.
Spectrum
In the world of internet providers, Spectrum is a renowned name. Like the above two companies, it also allows for blazing fast internet speeds of more than 1000 Mbps. Besides, upon registration, it provides you with free antivirus software and internet modems. In case you are a parent who is fearful of the harm internet may cause to your kid, know that the company allows you to limit what your kid can reach on the global network.
Cox
Although Cox might not be as famous as the ISPs mentioned above, it is well worth consideration. Here's why: subscribing to Cox internet enables you to take advantage of many cool features. Cox Wi-Fi hotspot will allow you to access the internet in commonly visited public areas. Cox also gives you the option of managing multiple accounts from a single dashboard through its Cox Panoramic WiFi service. Last but not least, you are protected by a reliable system of data security. 
Frontier
Frontier prides itself on being a dependable ISP for the rural population of the United States. In fact, it started off as a telecommunications provider that only served in villages. However, as time passed by, it expanded itself geographically, by servicing urban areas, and functionally, by providing television and internet services. 
Optimum
We have mentioned Optimum last but that does not at all mean that Optimum is not a good service provider. In fact, Optimum is widely known to be one of the best service providers in the country. It claims to have smart WiFi capability which allows its users to access the internet seamlessly from any part of their house. However, Optimum is not available in all 50 states. You can find more information on its availability on the Optimum website. If it does not serve your town yet, you may also be able to get information about when it will start serving your town.
Conclusion
Above, we have tried to give a brief account of some of the largest internet service providers in the United States. However, truth be told, different ISPs function in different areas of the country and this list is not at all exhaustive. If you live in an area where a provider we did not mention has a very good reputation, by all means, research about and consider that provider as well. 
This is it for now. It is up to you to decide which provider best suits your needs. We wish you the best of luck with your internet and everything else in the year 2022!