Apple device users know better than anyone else how difficult it is to block ads in Safari. Although many solutions to this problem have appeared in the AppStore recently, their capabilities are often limited to a minimal set of features. And the effectiveness of ads, trackers, and malicious code filtering leaves room for doubt, as Safari's web engine algorithms are still far from perfect.
But there are digital products that allow you to block ads on iOS, at least partially, due to the lack of access to the system from the outside. We have analyzed most of them and are ready to share our expert TOP, where we will announce the best ad blocker on iOS.
Top 5 ways to block ads in Safari iOS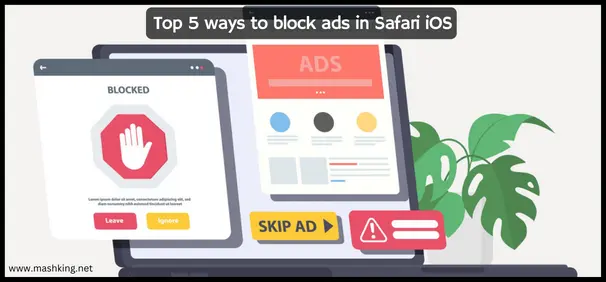 To block ads in Safari on Mac or other Apple operating systems, you should install one of the available browser extensions from the AppStore. Although at first glance, there is not much difference between them, in practice, their results are very different. Each iOS ad blocker in Chrome or Safari has its own advantages and disadvantages and has its own distribution model. There is even a free ad blocker in the iOS browser, which, although not as effective as its counterparts, will also be useful to every user.
No 1. AWAX
This utility is the best way to block ads in Safari on iPhone. Its interface is quite easy to learn, and its functionality allows you to work with all types of content and block all ads on the pages of a website or even a web app.
Benefits:
Unique algorithm for blocking ads and trackers.
Protection against malicious code on pages.
Support for protocols to disable known ad models.
Built-in VPN for redirecting traffic to filters.
Cleaning links and addresses from spyware algorithms.
No 2. AdGuard
Free ad blocker for Google Chrome iOS and Safari with a large database of malicious trackers and addresses. It comes with the task but requires many access permissions and configuration of individual modules.
No 3. AdBlock
A fairly well-known utility for fighting spam, banners, and pop-up animations. Handles all types of marketing content but does not work with the algorithms of YouTube and other popular platforms.
No 4. Wirp
A progressive plugin that allows you to partially block ads on YouTube Safari, but that's where its trump cards end. You can use the iOS YouTube ad blocker as an alternative for complex solutions.
No 5. 1Blocker
This is an ad blocker in the iOS browser, which allows you to get rid of marketing creatives while working with content on pages of websites. Not a bad solution for anyone who wants to cut down on ad traffic.
Do you want to get rid of all ads in Safari as quickly and effectively as possible? Install and run AWAX by first allowing it to create a VPN connection and activating the plugin in your browser settings. It will save you a lot of traffic, speed up web page loading and protect your confidential data from cybercriminals.
These are the features that make AWAX stand out from the competition. Of all the existing digital solutions, only AWAX is so powerful that it can block ads even in the system or in individual apps. Most likely, this feature will appear a little later when Apple changes its key OS distribution policy.