Are you looking forward to a PDF reader for your Mac? Well! A PDF reader is something very essential if you are looking forward to sending any important document quickly and easily. PDF or Portable Document Format, the name itself suggests the work it does! Adobe in the year 1993, came up with this great tool that allows users to send important files & documents such as invoices, contracts, policies etc; in an easier way. However, to view the data in PDF format you will need a PDF reader. Now here are the top 5 Best PDF reader for Mac of 2023.
Top 10 Best PDF Readers for Mac of 2023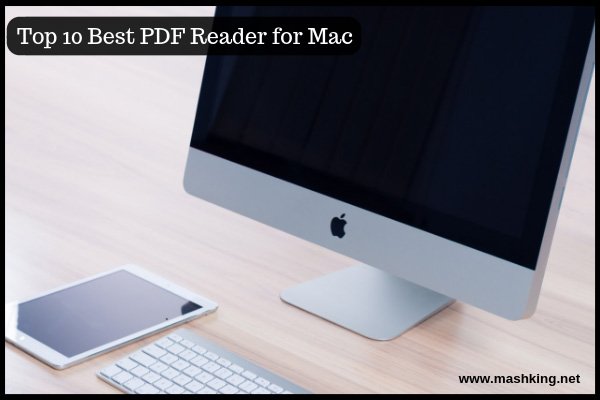 Top 5 Best PDF Readers for Mac of 2023: Must check
1. PDFelement for Mac- Best PDF reader for Mac :
Are you a Mac user? Well! If yes, then to do all your files and documents related works you will only need PDFelement. It helps to store, secure and manipulate documents and information. It can also change and edit text and images and also fill out the important form. This tool is very much user-friendly.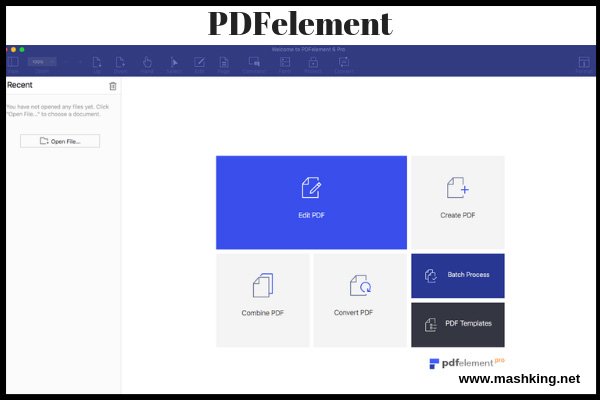 Pros:
Has advanced OCR technology.
Easy to use interface.
High security of files.
Cons:
It is a little expensive.
2. Skim- Mac PDF Reader :
A great option for professionals as well as beginners is none other than Skim. It is an open-source PDF app that was developed with Objective C. This tool helps to create, edit, bookmark, and ask view any documents or files. It is very much user-friendly and can come in handy while viewing notes and previews. One of the main reasons to love Skim among all other favorites is the impressive interface it provides.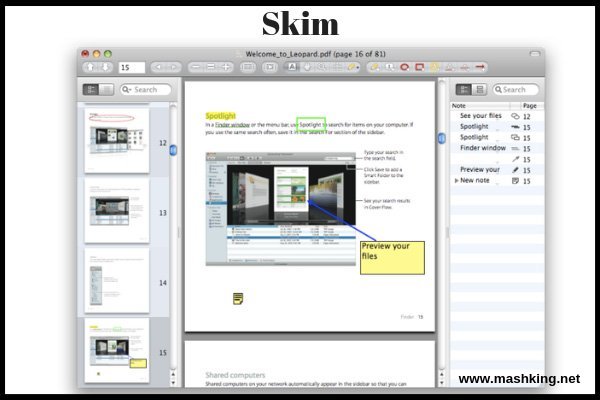 Pros:
User-friendly interface.
Single Swipe highlight mode.
Internal Links can be previewed.
Supports AppleScript.
It allows the addition of circles.
Cons:
Have some basic features.
No OCR.
3.  iSkysoft Mac PDF Editor:
Are you looking for a PDF reader for your business purpose? Well! If yes, then iSkysoft PDF Editor is the best suitable pdf viewer for you. It includes features such as editing, signing and pacing watermarks, converting and also editing. This tool is used by companies like IBM, Nike, etc to upload and edit several documents at the same time. The iSkysoft PDF Editor can literally convert and watermark any documents possible. It also has a password protecting facility to make your work safe.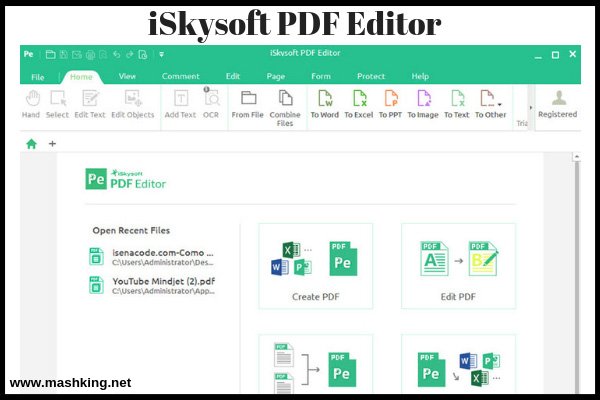 Pros:
It helps to add, edit or delete any images, texts, watermarks, and even links etc; in PDF.
This tool can combine or split any PDF and can fill out forms easily.
Provides very high-level security.
Cons:
It is not on the affordable side and hence can be a problem to avail for few.
There are compression issues.
4. Preview- PDF Reader:
One of my personal favorites that serve 2-in-1 facilities for viewing images and as well as PDFs is none other than Preview.  If you are using Mac and want a great tool to do all your office work, then Preview is the one you should look for. It lets you share, view and also print images and files. This tool also lets you open files and documents in  PowerPoint or PPT, JPEG, PDF, Bitmap Files or BMP, GIF or Graphics Interchange Format, and Adobe Illustrator files.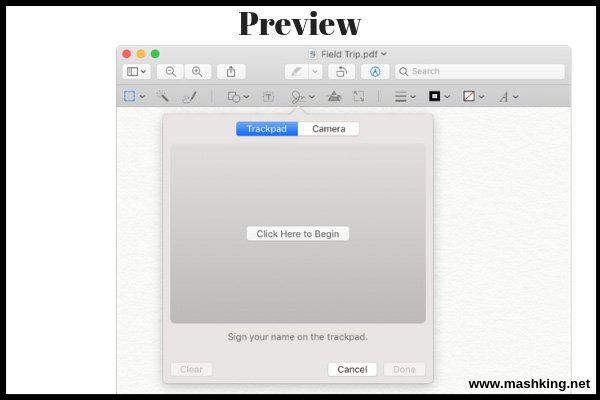 Pros:
You can preview lost data.
Easy looping of lost animated gifs.
Cons:
Sometimes it can destroy PDF files without giving any warning.
It doesn't support the ISO Standardised PDF system.
You can't edit an encrypted PDF while the original version is lost.
5. Adobe Reader For Mac:
If you are looking for an affordable PDF reader that works great on your Mac devices, then you must not think about anything else than the Adobe Reader for Mac. You can easily download this Adobe PDF reader anytime and set it as your default pdf reader. It is as per the industry standard and can be chosen over all others. Without any further doubt, you can opt for this pdf reader.
Pros:
It is free.
Easy to use and works fast.
Matches the industry standard.
Documents look clear and same as mailed.
Cons:
Documents can't be edited, neither forms can be filled.
6. Adobe Acrobat Pro DC for Mac:
Another great option for previewing and editing PDF files especially if you are using macOS 10.14 is none other than Adobe Acrobat Pro DC. This tool lets you edit, manage and print PDF documents. Now, what is the full form of DC? Well! It is Document Cloud which allows PDF files to be uploaded to the cloud storage system and is accessible on any of your devices.
Pros:
It is great in the case of archiving.
You can view the exact file and no format change occurs.
Has a Dropbox feature.
E-signature was available.
Quite handy and easy to use and share files in PDF format.
Cons:
You need to convert files manually to PDF before sending it.
Files and documents can't be edited and you won't be able to fill forms.
It is a little expensive.
7. PDFpen:
If you are looking for a user-friendly app that lets you convert files to the PDF version, then look no further than PDFpen. This app allows its users to design, embed and fill out forms on any of the existing documents. It has an e-signature feature and several other ways to format and compress documents and export them. This app called PDFpen basically lets you manage annotations, images, texts, and almost everything and anything that comes with the files.
Pros:
It can export any documents in any kind of format.
Integration of OCR or the Optical Character Recognition.
Cons:
Icons and tool selections aren't transparent enough.
8. Foxit Reader:
Foxit Reader is another great app for macOS that offers users to use it in different languages and to be specifically forty-two languages that include English, Hindi, etc. It offers users to create, edit, and view all kinds of PDF documents.
Pros:
Large files are easily supported.
It has a feature to let blind people read the screen. The Job Access With Speech or JAWS is available.
This app is great for presentations.
Cons:
It is integrated into unwanted programs which are not needed.
9. PDF Expert:
If you are using macOS 10.14, then one of the most useful PDF editors is none other than the PDF Expert. This app allows you to read, edit and manage, fill up forms, and sign contracts electronically making it a great choice for users. The PDF Expert app also has the merging and splitting functions.
Pros:
The PDF Expert app has an automatic detection of fonts which is greatly useful.
It also has a quick search option to make searching easy for users.
This app also has an easy-to-use interface and hence very much user-friendly.
Cons:
The PDF Expert doesn't have any OCR feature available.
10. PDF Reader Premium:
Another great app for PDF editing and reading on your Mac devices is none other than the PDF Reader Premium. This software enables its users to edit texts, images, freehand writing, sticky notes, and also manipulation of PDF documents.  To ensure it doesn't get difficult to find documents, you can easily tag and label them on your workspace. This app also supports the input of multiple or large files at the same time without lag.
Pros:
Easy-to-use interface.
It offers advanced editing options as it is the premium version.
Integration to the cloud is a great feature.
Cons:
It can be a little slow.
It has no OCR feature.
Conclusion for Best PDF Reader for Mac:
So these are the Top 10 Best PDF readers for Mac of 2023 which can come in handy when you want to send some of vital documents quickly and safely. Don't forget to let us know which one you prefer and if you have any other PDF reader in mind.