If you live in Canada and own a printer then you may find getting hold of affordable printer ink a bit of a nightmare. So many of us have fallen into the trap of believing that the only way to get new ink is directly from the printer manufacturer that we end up spending far more than we should. Let us take you through some alternative places that you can pick up ink and save yourself some cash.
Where in Canada You Can Get Cheaper Printer Inks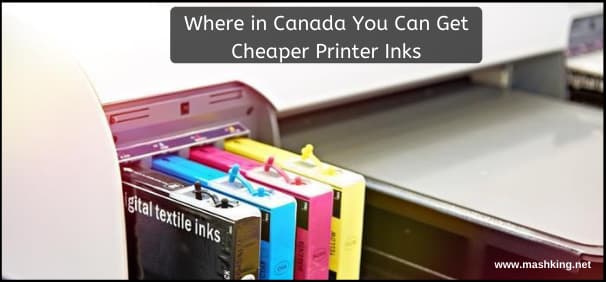 At Your Local Store
It may sound completely obvious but picking your ink up when you do your food shopping can be a great way to get cheaper inks. This method only works if you buy only when it is on offer and are willing to bulk purchase so that you do not run out before it goes back on offer at a later date.
Typically, stores are a prime location for printer ink replacement as shoppers are a captive audience. However, every now and again a store will run a promotion where you are able to save money on your ink meaning that you spend less than normal. In reality, these discounts are not typically huge but you can look forward to saving a small percentage on the unit costs.
From an Office Supplies Store
If you love to shop then you should consider heading over to your local office supply store when the time comes to get new ink. Not only are they home to great office furniture and accessories but they often offer a bulk buying discount so that you can save a decent amount of cash.
A bulk discount gets bigger the more you buy so if you are planning to utilize this method then you will need to have enough money to pay out for the amount of ink you will purchase to get the best discount. It is also important to note that ink does come with an expiry date so you will need to calculate how much ink you will use to ensure that you do not end up with ink that is past its best.
Online Replacement Ink Company
The final idea we have for you is to use a replacement ink company when you need cartridges for printer machines. Now, this method often comes with concerns from buyers who have grown up believing that compatible ink is not good quality and that it will run on the page and make your work look awful. Luckily, times have changed and replacement ink is now a real contender in the printer world.
Companies like Smart Ink have changed the face of replacement printer cartridge sales by taking the time to become specialists in the field. You can tell a good quality company if they only sell ink and do not list it as an add-on to other services they offer. You can save a fortune if you choose this route and can look forward to getting your HP 564 ink in Canada cheaper than any other place out there.