Are you impressed with the first look of Windows 8 and eagerly waiting for its release? Your waiting time is almost over because soon you will be actually experiencing a new world with all new Windows 8 operating system on your desktops, laptops, and tablets. Microsoft will release Windows 8 from October 26, 2012 in the market for general use. You all must have seen reviews of pre-released versions and possibly have taken quick review of features. I recommend you to explore this article for complete information about the exciting features provided by Windows 8. If you are completely lost on how to use the new interface, it is a good idea to read some Windows 8 tutorials so that you will appreciate the new changes coming up in the re-imagined Windows.

Requirements to install Windows 8 on your computer
For smooth functioning of Windows 8 your system must meet basic hardware requirements. These are same as that of windows 7 i.e.
RAM: It is recommended to have 1GB (32 bit) or 2GB (64 bit) of RAM.
Processor: It is recommended to have 1GHz or faster processor.
Hard Disk: minimum 20 GB.
Graphics Card: Microsoft DirectX 9 graphics card with WDDM driver.
Now, let's talk about various features which one can avail on Windows 8.
Strong base of Windows 7: Windows 8 is an enhanced OS from all fronts but it is as easy to use as Windows 7. Because it has been developed by keeping Windows 7 in mind. Hardware requirements are same and no additional system requirements are needed to run it. Rather it is more reliable in terms of speed, compatibility, security, better file management, software update, usage of multiple devices at once, and recovery from errors by providing better restore options.
Beautiful start screen: It comes with a beautiful tiled start screen which replaces your old boring start menu with icons. The best thing about this start screen is that you can find all your important data in one place like email, social networking, games, videos, images, and all other applications at one place. You must be thinking how this is possible? I tell you yes, it is possible with windows 8 start screen. Its metro style design provides shortcuts in a beautiful way which are easy to access and which respond very quickly even when you are on a slow system.
It provides Amazing integration of various input devices. Now no need to waste your time to think about device for using this software because, it supports keyboard, mouse as well as touch.
Windows 8 provides a Cloud connectivity feature with which you can access your important data from any device just by logging into your windows account.
Wonderful built in applications are available for users.
Windows store is the most exciting feature for downloading various applications for Windows 8. You can browse various applications, they are free to try and if you like them, then you can buy them. For this you must have an active internet connection.
Support for a wide range of hardware platforms makes it flexible as one can use this software on any device of their choice.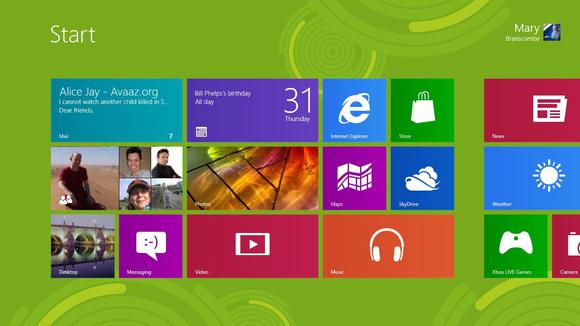 New browsing experience with improved internet explorer as its development is based on standards. It provides more trusted and fast access to the web. It is now more than a browser.
No longer need for separate device for business because it provides built in tools and applications for business.
So, it seems very interesting but it is actually very interesting. You can call it as all-in-one software. So users, good luck for your new experience.