How to Record Webcam Video with the Movavi Video Editor
Do you have a webcam that you use for video calls and conferences? While most people tend to utilize their webcams for various types of online communication, being a camera you can use it to record any video footage that you want really.
If you were able to record webcam video then you could create your own video guides and tutorials, show the development of a project that you're working on, or even just record 'reaction' videos for YouTube. Regardless of what type of webcam video you'd like to record – the one thing that you need to do so is the Movavi Video Editor
By opting to use the Movavi Video Editor, you'll end up killing two birds with one stone. Not only will you have a software that can record the webcam video that you require, but you can also choose to edit and improve it in various ways too. To begin with however, recording the video itself is really very straightforward and all you need to do is: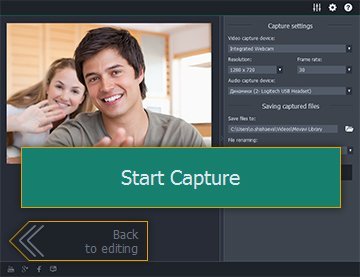 Click the 'Record Video' button to put the Movavi Video Editor into its capture mode.
Set the 'Video capture device' to your webcam, and click 'Start Capture' when you're done with the other settings.
When you're done recording click 'Stop Capture' and your video will automatically be saved to the destination directory that was specified in the settings.
For a more detailed look at the process, you could head over to
http://www.movavi.com/support/how-to/how-to-capture-webcam.html.
As you can see, with those few simple steps the Movavi Video Editor would have effectively helped you to record the webcam video that you need. Assuming you'd like to improve the video that you record, however, you'll find it is easy enough with the other features of the software.
Using these features you'll be able to cut and combine video segments, apply special effects and filters, add background music or voice-overs, insert customizable text, enhance the video quality – and much more. To put it simply the Movavi Video Editor will provide a comprehensive array of features that will let you tweak your video in any way you need.
By the time you're done your webcam video could turn up to be a masterpiece in its own right. In fact, with a bit of practice, you may even feel that it is good enough to start your very own YouTube channel.