Although social media are becoming increasingly popular and allow companies to reach millions of consumers around the world, some brands prefer to ignore.  In doing so, they deprive themselves of yet an interesting opportunity to achieve their goals.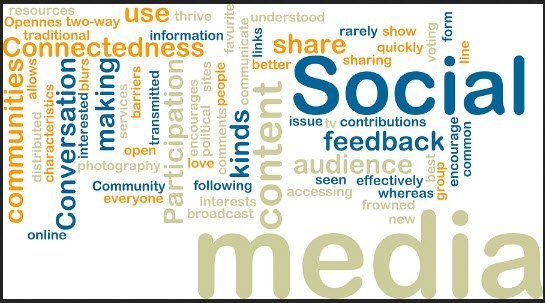 If you make use of these companies, I invite you to read the rest of this article to find out how social media can help you grow your business.
1)      Increase awareness of your business :
 Social media to help increase awareness of your business through three levers:
Increase the reach of your messages.
Commitment created by your posts.
Influence you enjoy the communities where you participate.
This is probably one of the goals that you can reach with more success using social media.
Create and share relevant content, tie relationships with influential professionals, participate in conversations, choose quality over quantity, etc. …
2)        Increase traffic to your website :
 In recent years, social media have become important sources of traffic for publisher's websites.  In France, I would say that Facebook and Twitter are the two platforms that generate the most traffic.  However, there are other platforms which some are highly specialized (vertical industries, demographics etc …).  This is an advantage for obtaining qualified traffic. Add social sharing buttons on your website, enter the URL of your website on your social profiles, facilitate inserting the subscription on your web site links to your social profiles etc…
3)        Improve the SEO of your website :
Social media has opened the way to social referencing.  Today, Google customizes more search results based on content from social media.  In addition, Google uses indicators "social media" to determine the relevance of the information shared.  Finally, social referencing is even more important today with the advent of social network Google Plus. Add +1 button on your website, create a professional page on Google Plus, use your keywords at the beginning of your articles, encourage your audience to share your blog articles.
4)        Increase your leads.
Social media enable businesses to interact with prospects, promote their content to potential customers, directing traffic to landing pages etc … lead generation is effective when a prospect agrees to give you their e- mail exchange relevant content or when a visitor subscribes to your newsletter. Target the social network where your prospects, answering questions on Linkedin, informative content and develop attractive, integrate social media with email marketing.
5)       Increase the number of sales.
Social media are also useful for selling products.  In this sales period, I bounce on a section of the Express.fr indicates that cyber-sales will be boosted by social networks and mobile.  Businesses use social media virility provided by sharing deals and discounts between fans and their network. Sales via social media are a particularly strong expectation among small businesses. Integrate button "Like" and "Tweet" about your product, take your efforts on Twitter and Facebook, increase your number of Twitter followers and Facebook fans for your number, make videos in which your products are used.
6)        Manage online reputation of your company
 Social media is a bit Rolls digital public relations.  Companies use to listen to conversations that take place on them to respond to questions or criticisms concern and finally to create engagement with their audience while building relationships. Perform a daily monitoring to identify and respond to criticism as soon as possible, do not delete criticism if you have the opportunity, develop a crisis plan for social media, a charter of social media for your business train your employees on social media.
7)        Reduce your operating costs
Social media contribute to the reduction of costs for some services of your company such as recruitment, advertising, customer service, etc … You can for example reduce calls to your customer service by answering questions about your social media your customers and prospects.  Depending on the chosen solutions, you also allow members of your community to answer questions and participate in discussions – under your vigilance. Add an application to your Facebook page for customer relationship management, use the advanced features of search engines Video and LinkedIn to recruit employees, create an advertising campaign on Facebook