The world of link building in terms of SEO has received more scrutiny and attention over the years than any other fundamental within SEO. And yet, even now, many SEO experts remain divided.
So, as we enter into 2016, we should look back to assess what has changed and then to consider what are the most important factors now.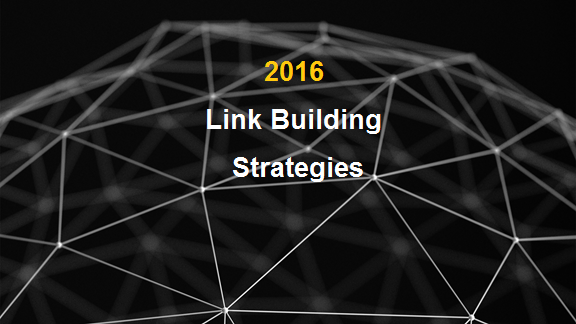 What's Changed?
The Penguin Update.
Penguin Update Version 1.0 albeit three years old, continues to define the expectations for link building. The Update made it virtually impossible to create links through unnatural and automated methods. This Update was followed up, at least formally, in December 2014, and still, the emphasis has been on link "naturalness" and quality.
Link building avoidance.
Google's John Mueller, in early 2015, said, in a roundabout fashion, that it would be wise to avoid link building to achieve rankings in Google. Of course, this caused a brief overreaction within the SEO industry. Nevertheless, the more moderate and more experienced SEOs knew that link building was still very important, and that Mueller was merely referring to manual link spamming, which was indeed now as good as obsolete, thanks to the Penguin Algorithm Update. After all, link building does include such activities as guest posting and posting quality content that will attract backlinks of its own accord. Neither of these practices can possibly break any rules and both are still particularly valid formats of generating quality backlinks.
Picky publishers.
Link building strategies that are not focused on attracting links through the generation of quality content on your own website means that you must submit content, such as in the form of guest posts, to external publishers. Nevertheless, every action will inevitably lead to a reaction. And because of the increased stream of such content, and also because of the increasingly sneaky game plan of including unnatural links within such content, it's understandable that many publishers have become mighty picky. And that in turn makes matters more difficult for most of us – even legitimate contributors – to generate and post content in the form of guest posts or any external publication which will provide a healthy link back to our own website.
Higher standards for content.
The standards for content in terms of what Google necessitate are always on the up, as can be said in terms of user expectation, too. This is on account of the fact that in almost all markets, the amount of content has reached oversaturation. Google can't rank every piece of content at the top of its search results. So, the end result is that only the very best content has any opportunity to earn links and be shared, thereby making the natural viral approach far more difficult to gain any success at.
The Continued Importance ofLink Building
Why is it then that most people continue in their pursuit of link building campaigns? After all, it's much more difficult than ever before to see anything positive come of it.
This is true, but the fact remains that link building is necessary if you wish to see your website ranking well in Google's search results. It's those inbound links that pass the "authority" to your site's individual pages and domain as a whole. Inbound links act as "votes," and they tell Google if your site is worthy of being regarded as an authority site or otherwise. The fact is that you'll not get links in any meaningful quantity without making a concerted effort.
Finding the Best Sources
Respectable.
Ask yourself before aiming for a backlink from any website, "do many people read, use, and trust this website? Has the site been on the go for a while? Is it well recognized?" The more respect your source has, the more valuable the links are going to be. And that in turn, unfortunately, means that the links are more difficult to acquire.
Relevant.
Any source that you use should be relevant to your business. Enough said about that.
Utilizing the Appropriate Content
You'll acquire inbound links due to your own content. These links might be embedded in the content which is then submitted to an external publication, or the content can be published on your own site in which case it is there to attract inbound links, given its own merit. You must, for obvious reasons, write content which is relevant to your market, while also following best practices and generating material that is:
Engaging
Original
Well-researched
Thorough
Well-written
Well-organized
Visually appealing
For more about link building tactics that work in 2016, visit Youth Noise Chicago.