We know how important is comments for your blog. Without comments, the blog posts looks lifeless. It does not mean that every blog post is going to have a comment, but certainly, a good post is going to receive a comment in the form critical praise and additional information.
If we look from the SEO perspective blog comments are helpful in adding some related keywords and thus helps you to rank higher. However, in this article we will be more concentrating on the art of how to get more blog comments for a particular post.
Are you interested to increase the number of blog comments on your posts? We do have the social proof as to how blog comments can drive more traffic to your site. No one will like to read a blog post, which have zero comments.
If the title of the article has caught you, then sit down and have a read. Well before you share these three tips let me tell you something clearly, there are chances that every post is not going to get comments, not every comment is genuine, number of comments depends on the blog commenting system.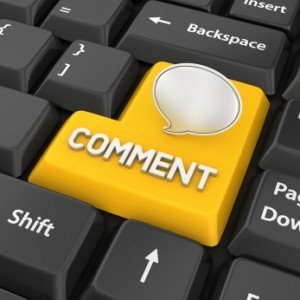 • Have Some Grabbing Headlines for Your Articles
The headlines of your article must be able to catch the attention of the readers so that they are attracted to read the blogs in your website. No matter how great can be the content, if the headlines are not catchy, the article is left unread. When you want to have more comments on your blog post, an attractive title is must. Great headlines are the sign of great stuff ahead and that's what turns on the readers to be a blog commentator. So spend your little time to think a catchy title.
The headlines should have the following characteristics: they should arouse curiosity, educate people, entertain them or scare the readers to grab the eyeball.
• Approve the Blog Comments Immediately
This is the most killer tip that will fascinate your readers to comment on your blog. We know that due to spam comments you often keep your blog comments moderated which is no doubt a good practice. However, you can make some changes in the WordPress settings to make things a little easier for you.
However, if you are often on business tours and have to stay away from the computer, instant approval becomes a little difficult for you. Well, I can recommend you to try the WordPress App on different devices, which help you to moderate the comments directly from the Smartphone.
You can also use the combination of Aksimet + GASP plugin to overcome the spamming condition. At the end, you can stick to any kind of technique but do not leave a single comment for moderation.
• Addressing the Commentators with Their Name While Responding
When you receive a comment then you are surely going to reply to him or her in return. Then make sure that you are calling the person by his or her name. This encourages a person and makes him or her special. This way if you respond then it is going to matter a lot to your readers and they will even recommend their friends about your blog to give read for your suave responses.
If you are ready to set a blog and want to pump up the action from the beginning then blog comments are must. Follow these three simple steps to make it perfect.
Author's Bio: Roger Thomas is an entertainment blogger who spends hours online to search for the perfect story. however, during this time his laptop often encounters virus attack. to get rid of this he generally opts for virus removal support from some reputed brands.