Quantitative data will always make a greater impact on those reading it than mere text. However, to make the context of such data interesting and attractive, they need a vivid presentation. 
As statistics continue to mount the ladder of importance in the world of digital marketing, data visualization has become a crisp concept. Infographics are a dedicated way to bring quantifiable data to your audience's attention. But in order to help them retain it better, it must be made visually appealing. 
While infographics are a world of their own, digital marketers have now shifted to explore the domain of video marketing, which is a step up from the benefits which infographics could bring to the table. 
On its own, a video infographic can add a peculiar dimension to data and also manage to garner the attention of the audience. It is highly efficient when it comes to conveying a vast magnitude of data. 
So, if you are looking for an effective way to convey the complex and vast volume of data, using video infographics may be the right way to achieve your targets. Using simple tools such as InVideo, you can create impactful video infographics at no cost and absolute comfort.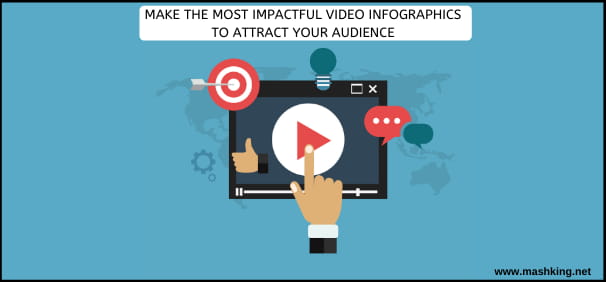 So, what does it take to compile a video infographic easily? Let us find out. 
Steps To Curate An Attractive Video Infographic
Purpose And Audience
To build an effective video infographic, you need to determine your purpose and target. Is there a specific set of information that you are seeking to convey through this infographic? What message do you want to convey to your audience this way? 
Refine your purpose and target depending on your audience, which will guide the production of a video infographic in the right direction. 
Data And Research
To create a video infographic, the first content you require is data. You could reach out to primary data sources, secondary research, and other ancillary sources such as market research and customer interviews to collect relevant data. 
Make sure that the data you have collected is absolutely correct and can be linked back to trusted and verifiable sources. Relevancy and accuracy of data are at the frontline of creating a reliable video infographic. 
Transformation To Videos
Depending on the type of visual representation you seek to present to your audience, you need to decide how you are going to tell your story through the video. A storyline makes your video infographic richer and helps your audience retain its contents for a longer time. This is the point where you can combine the potential of numbers with an engaging narrative to draw more audience attention. 
Work On Tools
Only with the right tools will you be able to achieve the targets of your video infographic. Make use of a seamless and convenient tool like InVideo, which allows you to add several features to your video infographic in one go. Ideally, you may want to work with a rich source of elements such as graphs, diagrams, and charts to make your infographic presentable. 
Add Elements 
To make your video infographic interesting and attractive, you may want to add certain elements to it, which make it appear gripping to your audience. You can work around with different styles of animation, typography, colors, and infographics to make your output impactful. 
Depending on the context of your video, you may want to add one or more visual elements such as a graph, map, or diagram to depict your idea with greater clarity. This makes it easier to demonstrate information in a precise manner. 
Production
Up to this stage, you were only collecting elements and ideas which could make your video logical and attractive. From this stage onward, it begins to go into the production stage. 
You will need to provide a timeline to the elements and introduce them in a chronological manner. At this stage, you will also need to set the script and sounds, which will revolve around the contents of the video. 
Review And Edit
Once your video is ready as per the directives you have chosen in the steps above, you will need to make a re-run of the video and check for areas where there is room to edit and improve. 
It is absolutely imperative to make sure that the information provided by you is accurate. At this stage, you need to save the date templates and optimize the data for SEO purposes. Do not forget to add gripping and eye-catching illustrations to the output. Click here to know more.
If you feel that taking quick feedback on your video might help polish it further, then ask some spectators to watch it for you and provide their honest feedback. Adding a call to action at the end of the video will serve the purpose of attracting the audience and direct them to convert a lead. 
Finalize
Now that your video is made, use the export option in the tool and share the video on as many platforms as you deem fit. You may even publish your videos on blogs or share them through email. 
Always keep a record of your videos with you, which can be used later for editing and re-using for another video infographic. 
In Conclusion
Going through these steps might make an impression on you and convey exactly why and how video infographics are so much better than regular infographics when it comes to portraying vital information to your audience. 
In this world of tough digital competition, you might do some good to present your audience with reasons why they must stay connected with you. Video infographics are an authentic way to convey vital information and keep your intended audience hooked to understand the same. 
Were it only for infographics or regular numbers, it would be hard to retain the information in the mind of the customers. Thus, it is worthwhile to explore the potential of video infographics and use them to market essential information in the present digital age.