Watches have long been a symbol of sophistication and timeless elegance. In India, the market for watches has grown exponentially over the years, with an increasing number of brands offering a diverse range of designs and features. In this blog post, we will explore the top five watch brands in India, each known for their exceptional craftsmanship, innovative designs, and perfect blend of functionality and style. And yes, we will also dive into the impressive offerings from one of India's own watch brands, Force India. So, let's dive right in!
Top Watch Brands in India: A Blend of Style and Craftsmanship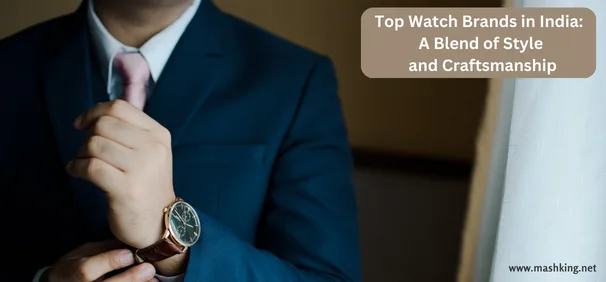 Force India:
Force India is a rising star in the Indian watch industry. This homegrown brand has been gaining popularity for its unique designs, attention to detail, and affordability. Force India watches are designed to make a statement, combining style and functionality. The brand offers a diverse range of collections, including classic dress watches, sports watches, and fashion-forward timepieces. With their distinctive designs and reliable performance, Force India watches are increasingly sought after by those who appreciate the value of local craftsmanship.
Titan:
When it comes to watch brands in India, Titan is a name that needs no introduction. A flagship brand of the Tata Group, Titan has been a pioneer in the Indian watch industry. Renowned for its precision, quality, and stunning designs, Titan offers an extensive collection of watches catering to various tastes and budgets. From the elegant Titan Raga collection for women to the sporty Titan Edge for men, each timepiece is a testament to the brand's commitment to excellence.
Fastrack:
Fastrack, a subsidiary of Titan, has become synonymous with trendy, youthful watches in India. With its bold and contemporary designs, Fastrack has captured the imagination of the younger generation. The brand offers an exciting range of watches that effortlessly blend fashion and functionality. Whether it's the sporty chronographs or the chic, minimalist watches, Fastrack provides an array of options for those who seek a vibrant and dynamic style.
Casio:
Casio, a Japanese brand, has carved a niche for itself in the Indian watch market with its reputation for reliability and durability. Known for its technological innovations, Casio offers a wide range of watches that cater to diverse needs. From the iconic G-Shock series, renowned for its toughness and ruggedness, to the stylish Edifice collection, Casio offers timepieces that are loved by watch enthusiasts and professionals alike.
Fossil:
Fossil is a globally recognized brand that has made a significant impact in the Indian market. Known for its vintage-inspired designs and superior craftsmanship, Fossil offers watches that effortlessly fuse classic and contemporary styles. With a wide range of options for both men and women, including smartwatches, Fossil continues to capture the hearts of fashion-conscious individuals who appreciate timeless elegance with a modern twist.
Timex:
Timex is a brand known for its rich heritage and commitment to producing reliable and stylish timepieces. With over 165 years of watchmaking expertise, Timex has been a trusted name worldwide. In India, Timex offers a diverse range of watches that cater to different tastes and preferences. From classic and elegant designs to sporty and rugged timepieces, Timex provides options for every occasion. What sets Timex apart is its focus on innovation, incorporating advanced features such as Indiglo backlight technology and water resistance, making their watches practical and versatile.
Tommy Hilfiger:
Tommy Hilfiger, a renowned American fashion brand, has also made a significant impact in the watch industry. Known for its iconic designs that embody the spirit of classic American style, Tommy Hilfiger watches are coveted by fashion-conscious individuals in India. The brand's timepieces combine elegance with a contemporary edge, incorporating elements such as stainless steel cases, leather straps, and bold dial designs. Tommy Hilfiger watches exude confidence and sophistication, making them perfect accessories for both formal and casual occasions.
Conclusion:
The Indian watch market is brimming with an abundance of choices, each catering to different tastes, preferences, and budgets. The top five watch brands mentioned in this article—Titan, Fastrack, Casio, Fossil, and Force India—have made their mark by consistently delivering exceptional timepieces that captivate watch enthusiasts across the country. Whether you prefer classic elegance, trendy styles, technological advancements, or affordable luxury, these brands offer an extensive range of options to suit every individual's unique sense of style. So, go ahead and explore the world of watches, and find the perfect timepiece that reflects your personality and enhances your style quotient.