The Android market may not have many apps compared to nokia's java and symbian applications. Although Android is a google product most of the best apps are not free of cost, user must pay some dollars to get that specific App. So we can say that it is a con while using Android based mobiles because java and symbain apps are mostly free of cost.  while we select android apps it will bit difficult to get a best app for your exactly need. To help you sort through them all, here's my list of the best apps I've found on Android.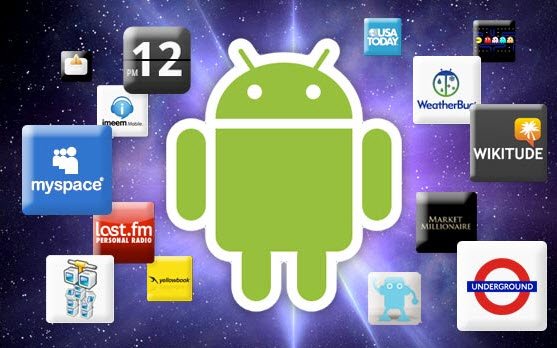 Below is the list of top 10 must have Android apps, just read out the description and if you need any one of the App you can get it from Google play.
1.Pandora
It is one of the best desktop music player, now in travel size! If you've used the desktop client then you've got to try this gem of an app. You can log into your stations right on your phone and listen to your streams, vote songs, see song info, and discover new music. From the Pandora website.
2.Barcode Scanner
This app turns the Android camera into a barcode scanner. You simply scan a product's UPC code and let the app go to work to find it in Google Product Search or a search on the open Web. You'll be amazed at how fast it works. This is great for when you're shopping retail and you want to check the price of a product online before buying to make sure you're paying a fair price.
3.Tricorder
A lot of geeks I know like to say that our smartphones are becoming more and more like the Tricorders on Star Trek. Well, here's a fun app that turns your Android device into a virtual Tricorder. It even offers some useful environmental information, including GPS data, wireless data, and ambient sound measurements.
4.Astro File Manager
It is the best app to navigate the system files as well as memory card. Another one of the great things about Android is that you have lower-level access to the system itself. So it can be easier to notice the installed files and important documents to secure it by using Astro file manager.
5.Places Directory
This is an awesome app for finding shops and services near your current location. From restaurants to movie theaters to medical facilities to taxis, this app is very accurate and takes advantage of the business information from Google Local. This app is better than the info you get from a GPS unit (or app) and better than any of the similar apps available on the iPhone.
6.GO Weather Widget
GO Weather Widget is an useful widget exclusively designed for GO Launcher. it can be used to check whether of any cities with an accurate value.
7.Letrix Pro US English
Letrix US English is a fun combination of Tetris and Scrabble for all ages. Useful for those who want to improve their language skills, too. The objective is to build correct words with letters that the game provides, but you must hurry up and think fast, before the screen fills. Which is the longest word you are able to create? Several modes of play and difficulty levels.
8.BrainJiggle
BrainJiggle collects the most interesting logic puzzles, which can perfectly massage your brains. – 10 levels with different complexity – 50 illustrated puzzles – Excellent graphics and easy to use interface.
9.Study Buddies
We are Transition Year students who want to lend a hand in local primary school as part of our Young Social Innovators project.It will help the children with spelling, reading, maths, art, pe and anything else teachers need us to do. In one word we can say that it is very useful for students.
10.Call Recorder
Another cool app for recording all your Phone Calls just by activating it in a single click and it will start work by itself. No need to start it while you receive calls. It also have some features like Play/Delete/Rename recorded files, Send recorded files via email, Password protection and lots more.