Picking the best Toshiba Copier for your business is of great importance. You want to make sure you pick the right copier that has the features you need to run your business efficiently. You also want to make sure that you choose a company with a knowledgeable staff that can answer all questions and address all concerns is of equal importance. You don't necessarily have to go straight to the manufacturer to get a brand name copier; in fact there are companies that are just as reputable and sell the same products . Knowing you have the perfect copier for your company will put your mind at ease knowing that everything is running smoothly and as planned. The right copier can increase efficiency and lower business costs, so let's talk about the latest features of Toshiba Copiers.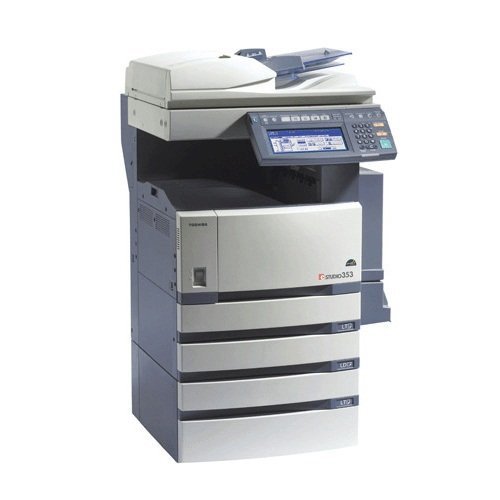 One of the copiers we will talk about is the e-Studio 5540c/6540c/6550c. This product is a colour MFP also known as, Multi-Function Printer. This machine copies, prints, scans, and has fax capabilities. It copies up to 65 pages per minute in colour and 75 pages per minute in black and white. This photocopier is a secure MFP with eco-features. The warm-up time for this machine is about 160 seconds, so you can begin your jobs quickly. The E-studio 256/306 copier is a multi-function printer (MFP) as well. The difference in this photocopier is that it's smaller in size and prints up to 30 pages per minute in black and white. It is built for small or medium-sized work groups. It is secure and eco-friendly as well, and can copy, fax, scan, or print whatever you need. The warm-up time is about 20 seconds for this model.
The e-studio 556/656/756/856A is a copier that is designed for larger work groups and offices. This large capacity photocopier can print up to 85 pages per minute in both black and white. It features a colour touch screen and can handle a variety of file types, including TIFF, JPEG and PDF. The warm-up time for this particular machine is approximately 130 seconds.The e-studio 2040c/2540c/3040c/3540c/4540c model is equipped with colour MFP and can copy up to 45 pages per minute. This machine is intended for medium-sized work groups. This photocopiercopies with a 4-beam colour laser and works with a wide variety of operating systems. The warm-up time for this machine is 99 seconds to 160 seconds.
The e-studio 195/225/245 model copies up to 24 pages per minute and is intended for both smaller and medium-sizedoffices. It is only available with black and white colour and uses toner cartridges that can yield up to 24,000 impressions. The last copier that is available is the e-studio 356/456. This model can copy up to 45 pages per minute and offers black and white copies. It also includes finishing options such as stapling and hole punching. With the variety of options and features to choose from, you can be sure to find the Toshiba copier that will meet your business or personal needs. Simply choose a trusted retailer, such as Business Systems and you will be on your way to a more streamlined business process.