How to Find the Best Warehouse in Mumbai for E-commerce business
There are several factors that come into play during the entire process of warehouse hunting and placement. Location is one aspect but what else should you consider? Pricing! What next? These two are just 10% of the iceberg that get's seen on top. There's a massive 90% which actually needs to be considered before you seal the deal. You may have your own reasons, but apart from those and to extend your business, here are 7 major things that must drive you towards your purpose.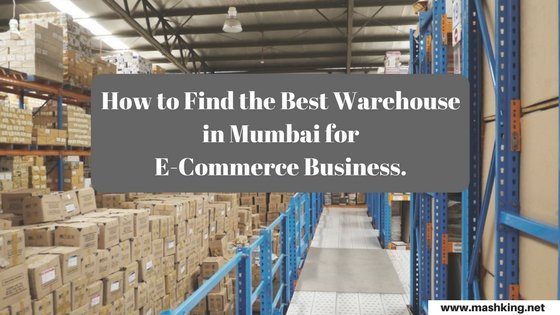 Here are 7 aspects to help you make an informed choice on how to find a warehouse in Mumbai on rent !
Location
The physical location of the warehouse is very much important to consider when you are on the lookout for the best one. Ask yourself, if you prefer a particular region or not. If yes, make sure that region is closer to your targeted customers, so the delays can be avoided and prompt deliveries can be ensured. The near your warehouse, the more convenient distribution might become. And also calculate the total transportation costs.
For instance, if you are a larger organization, question yourself if you are able to satisfy the regional demand being at this particular warehouse and if you are a smaller business, think if this space is close to where your customers are. Greater locations are well built, well kept and well connected. That's all that one might also require!
Look For Security
It is necessary for a warehouse in Mumbai to have a space that maintains utmost safety measures. Because what if a mishap occurs, the first thing to be destroyed will be the stuff inside of it. So, a warehouse that makes use of standard and advanced security techniques is the one that can be considered good. Space not only requires direct supervision but also expert personnel, safe working environment, and efficient storage facilities.
Cross Check the Management
Moving all your stuff to a warehouse is a tedious task in itself, not just from the pick-and-drop point of view, but also choosing the best location in the first place. So, you must make sure that the management is helpful and experienced enough to be able to cater your needs. They are the ones you will always have to deal with and they are also the ones responsible for your stuff. So, making sure that they are well versed in their work is an important task to carry out. Build friendly relations with these people and if you feel you cannot find any positive vibes from them, try and find someplace elsewhere.
Competitive Pricing Facility
Usually, it is the cost of a space that helps you in coming to a decision. However, several other costing aspects can influence this judgment. For instance, check the prices in a central location if your clients are situated in that particular area. On the other hand, check if the client base is somewhere on the periphery of the state. In case the building is cheaper on the outskirts, will it cost you more shipping?
Pricing does not only include the cost of the warehouse but numerous associated (oftentimes overlooked) expenses. So, you must be in a position to incorporate all the possible costs under this aspect and make a better-informed rent decision.
Expansion Possibilities
How do you plan to expand is a very important aspect to achieve greater heights. Each organization has it's own blueprint to be able to reach newer markets. So, based on the organizational objectives, you as a company can acquire a warehouse in Mumbai on rent to suit each of your goals. Keep these plans in mind whenever you are on a lookout for choosing the best storage solution. Because the way you plan to expand is where your warehouse must be located at.
Job Market
This may or may not apply to smaller firms but no such thought can be ignored. When you are done with deciding what location in Mumbai you may want to setup your storage at, make sure to also know the potential job market in that particular area. This is always a better practice so you can extensively evaluate if the staff that you'll need will be secure or you are just another drop in the sea.
Storage Requirements
The kind of goods and services you offer also becomes the base of what you should acquire. The best warehouse in Mumbai on rent is the one that caters to your needs and easily plus safely accommodates all your goods. The failure or success of an organization depends on the position these goods are sold in. In the case, if you are into sugarcane industry and you'll have to save goods pertaining to the same, then make sure the warehouse is in a nearby location and there's a minimum risk of the product being damaged by temperature or pests etc. Just make sure that your chosen space is suitable enough to be customized according to your particular needs.
By taking some time out to invest in such important decisions, you not only save time in future but also save your business and the offered services from any unforeseen conditions. Go from one to two and four, but till all the corners of your brain aren't satisfied, do not hurry the decision. It must be a perfect fit for the warehouse as well as for you!